Lowen Ashleigh is a struggling writer on the brink of financial ruin when she accepts the job offer of a lifetime. Jeremy Crawford, husband of bestselling author Verity Crawford, has hired Lowen to complete the remaining books in a successful series his injured wife is unable to finish.

Lowen arrives at the Crawford home, ready to sort through years of Verity's notes and outlines, hoping to find enough material to get her started. What Lowen doesn't expect to uncover in the chaotic office is an unfinished autobiography Verity never intended for anyone to read. Page after page of bone-chilling admissions, including Verity's recollection of what really happened the day her daughter died.

Lowen decides to keep the manuscript hidden from Jeremy, knowing its contents would devastate the already grieving father. But as Lowen's feelings for Jeremy begin to intensify, she recognizes all the ways she could benefit if he were to read his wife's words. After all, no matter how devoted Jeremy is to his injured wife, a truth this horrifying would make it impossible for him to continue to love her.

A standalone romantic thriller from #1 New York Times bestselling author Colleen Hoover.

[Goodreads]
DETAILS
Date finished: 26 November 2019
Publisher: Hoover Ink, Inc.
ISBN: 9781791392796
REVIEW
Colleen Hoover is one of those novelists that seem to linger just at the edge of my periphery. Even though her books are everywhere, I've never bothered with them. To be perfectly honest, I'm not entirely sure I even would've picked Verity out of a lineup, but I had a monthly Audible credit to spend and a two-day drive back from uni to survive.
I made a good decision.
Hoover's lucid and engrossing writing style was no surprise to me considering her status as a seriously accomplished romance author. What did surprise me, however, was the ease with which she twisted a slow-burn love story into something haunting, suspenseful and deeply disturbing.
Lowen Ashleigh is your typical romantic heroine – a struggling author, quirky introvert and overall "not-quite-like-the-other-girls-but-still-beautiful-and-interesting-enough-to-land-the-hunky-hero" girl. Jeremy Crawford, said hunky hero, has the personality of shiny and nice-smelling sawdust – but we forgive him his blandness for his sex-appeal and bare-minimum courtesy to Lowen. He's just such a nice guy*. The only thing standing in the way of their burning desire for each other is Jeremy's ailing wife, Bertha Mason – I mean Verity Crawford**.
*Read: a very good lover.
**Please tell me you got my Jane Eyre reference. Please?
This is all pretty standard romance novel bullshit (a term I use lovingly, I promise). Where it starts to get interesting is in Lowen's discovery of an unpublished autobiography hidden in Verity's study – a manuscript that sheds light not only on the dark corners (scratch that – dark everything) of Verity's mind, but also on the truth behind the dead Crawford twins. And let me tell you: folks, nothing will prepare you for the evil in these pages.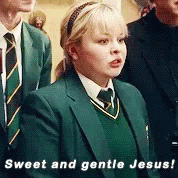 I was more unsettled by the graphic nature of the violence in Verity's manuscript than the various twists and turns that Hoover clearly hopes will keep her readers on their toes. (Sensitive readers, please be warned that this book contains extremely disturbing depictions of child abuse. I'm not easily shaken, but some scenes in this book left me nauseated.) The plot twists are fairly predictable, and I'm sure an attentive reader won't find many of them too surprising; Verity is a well-crafted novel that pushes boundaries and breaks conventions, but it's getting increasingly difficult to be original in a genre where readers expect a major twist every hundred or so pages.
That said, Hoover's blending of romance and thriller made for an enthralling, rather refreshing read. I haven't necessarily been persuaded to seek out her romance novels, but if she does choose to write another thriller it'll be difficult for me to keep my hands off of it.
Recommended to: Any (patient) reader fascinated by the Stalinist Era of Russian history.
Recommended to: Seasoned suspense fanatics looking for something fresh and intriguing.